Oral-B Water Flosser Advanced – Professional Trial Unit
ORAL-B WATER FLOSSER ADVANCED
Oral-B Water Flosser Advanced effectively removes bacteria and food particles to help patients achieve healthier gums. It reaches between teeth and below the gumline, so your patients can improve their overall gum health and complete their at-home care routine.
---
ORAL-B WATER FLOSSER ADVANCED FEATURES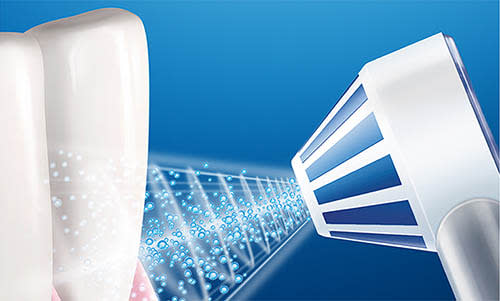 OXYJET™ TECHNOLOGY
Water enriched with microbubbles of air helps to improve gum health.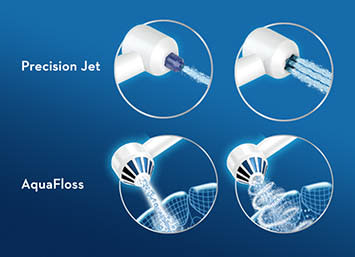 PERSONALIZED EXPERIENCE
2 nozzles offer up to 4 stream settings:
AQUAFLOSS NOZZLE
• Push switch up for a targeted stream
• Pull switch down for a rotational stream
PRECISION JET NOZZLE
• Click out for a single high-pressure stream
• Click in for a multi-jet stream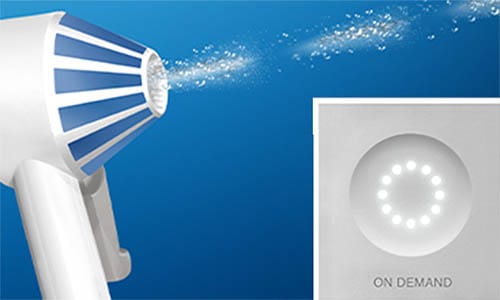 ON-DEMAND PULSE
Offers 2 exclusive pulse settings: Continuous Mode and On-Demand Mode, a special Oral-B feature that allows patients to release water when needed for a targeted, controlled clean.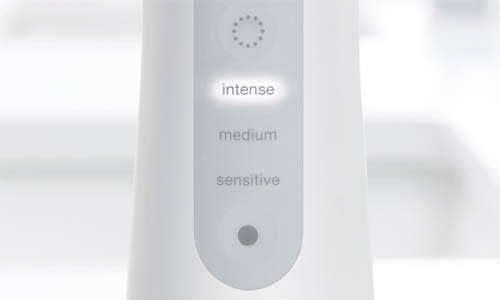 INTENSITY LEVELS
Customizable with different water pressures: Intense, Medium, and Sensitive.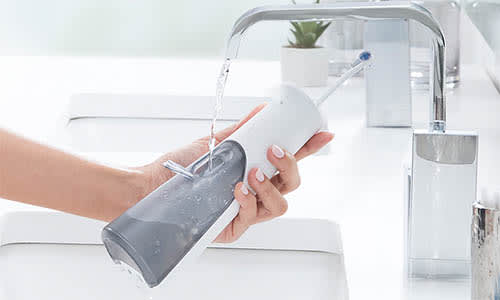 CONVENIENT
Fits in hand, with an easy-to-access water reservoir for refilling.
Primary Claim: Deep cleans and detoxifies along the gumline

Features & Benefits:
• OxyJet targets and helps eliminate bacteria for healthier gums
• Unique on-demand button allows for greater control and less mess
• OxyJet Technology: water enriched with microbubbles of air to help eliminate germs for healthier gums
• Cordless – with long lasting rechargeable battery and charging station
• Personalized streams: Direct for targeted cleaning, Rotational for gum massage, Precision for increased focus
• 3 flossing modes: Intense, Medium, Sensitive
• Perfect for braces and implants
• From the #1 dentist recommended floss brand

Pack Contents:
• Handle, Charger, 2 Nozzles (1 Aquafloss, 1 Precision Jet)

60 day Money-Back Guarantee
Limit one (1) Professional Personal Use Trial Unit offer per practicing dentist, dental hygienist, dental assistant, student or staff within a practicing office, per calendar year, without exception. Free ground shipping. Please allow 4 to 6 weeks for delivery after receipt of order. Terms are 30 days net. Sales tax applicable where required by state law. All merchandise will be shipped by P&G Oral Health. All orders are subject to approval and acceptance by P&G Oral Health.
NOT AVAILABLE FOR RESALE - PERSONAL USE ONLY
PATIENT EDUCATION - WATER FLOSSERS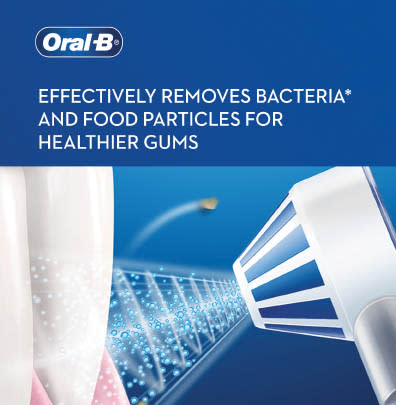 A water flosser helps improve overall gum health by using a stream of water to clean interdental spaces and remove bacteria. It can be used either before or after brushing—and is perfect for patients looking to improve their daily oral health routine, especially those with implants, crowns, braces, and gum sensitivity.
How to Use Video
This video makes it easy for patients to understand how to use the Oral-B Water Flosser Advanced.
Pack Contents:
• Handle, Charger, 2 Nozzles (1 Aquafloss, 1 Precision Jet)

60 day Money-Back Guarantee
Limited Warranty and Satisfaction Guarantee on Electric Rechargeable Waterflossers:
2-Year Limited Warranty:
2-Year Limited Warranty covers material and workmanship for a period of two years from the date of original retail purchase. Warranty includes replacement or repair of product without cost for parts and labor. The product must be provided to an authorized Oral-B Service Center. For referral to an authorized Service Center, please go to www.service.oralb.com. Proof of date of original purchase or free sample is required. Warranty does not cover finishes; normal wear; damage resulting from accident, misuse, dirt, water, tampering, unreasonable use, service by unauthorized service agencies, failure to provide reasonable and necessary maintenance, including recharging; or units that have been modified or used for commercial purposes.
Warranty Website: www.service.oralb.com
Satisfaction Guarantee:
If you are not 100% satisfied within 6 months of purchase, return it for a full refund via pre-paid card. Return the electric rechargeable waterflosser in its original packaging along with your name, address, phone number, and original cash receipt postmarked within 6 months of purchase to the address provided at 1-800-979-8268. Please allow 6-8 weeks for handling. The shipment cost to return the product is the consumer's responsibility. No refunds for product damaged by accident, neglect, unreasonable use or lost in shipment.
Satisfaction Guarantee #: 1-800-979-8268